Stucco 101
Merlex Stucco - Color Coat Stucco Systems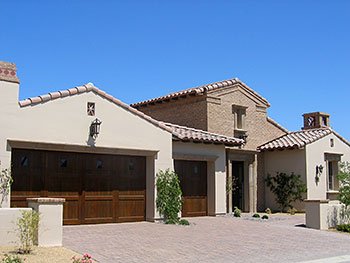 In
residential construction
, Merlex Color Coat Stucco is typically used as the outer layer of a 5-component exterior cladding system, commonly known as
3-coat stucco
. The first layer is the waterproof building paper, which is secured to the studs and shear paneling on the house. Next comes the wire lath, which serves as the foundation of the
stucco
system. The first layer of cement is applied directly over the wire lath, and is commonly called the
scratch coat
because a notched trowel is used to create a rough surface to facilitate bonding to the next coat. This layer is allowed to cure several days before application of the second layer of cement, commonly known as the
brown coat
. The brown coat is troweled smoother than the scratch coat, and covers all lath and corner aids completely. After this material has cured, the color coat is applied. Total thickness is 7/8 inch - 3/8 inch each of scratch and brown coats and 1/8 inch of color coat. The waterproof building paper, or moisture barrier, is the most important protective component of the system. Stucco is water-resistant and not water-permeable. However, moisture may enter a building at windows and other wall penetrations. The moisture barrier ensures that any water that penetrates the outer cement layers gets wicked down the wall and away from the building at the weep screed at the base of the wall. Standard practice today is that the weep screed is at least 4 inches above a dirt ground level, or 2 inches above a cemented ground covering. For more information, consult your stucco contractor.
In
commercial construction
, other systems in addition to traditional 3-coat stucco are commonly used with Merlex Color Coat Stucco. Merlex Color Coat can be applied over concrete masonry units (CMUs), poured-in-place concrete, and "one-coat" base coats; virtually any cement-based surface is suitable for application of Merlex's stucco products.
Advantages of Stucco Systems
Economical: stucco is the most cost-efficient exterior cladding system available
Versatile: qualified contractors can apply stucco to virtually any shape or surface, in many colors and textures, allowing near-infinite design flexibility
Water resistant: properly applied stucco systems do not permit water to enter the building
Low maintenance: most stains wash off; stucco does not require painting
Abuse resistant: stucco is durable enough to last decades
Fire-resistant: noncombustible, zero flame spread and zero smoke development
Breathable: while stucco systems do not allow water to penetrate, they do allow mold-causing water vapor to exit
Climate-flexible: suitable for hot and cold, wet and dry climates with freeze and thaw cycles
What makes up Merlex Color Coat Stucco?
Merlex Color Coat Stucco is also cement-based, and consists of a proven blend of cement, sand, lime, and other natural ingredients. Our stucco comes in three different sand grades: 16/20 sand (standard), 20/30 sand (intermediate), and Santa Barbara finish or 30 sand (smooth finish). A wide variety of textures, such as sand finish, lace finish, dash finish, catface finish, and smooth finish, are possible using each of the different sand grades - consult your stucco contractor for more information.
Blending stucco is not rocket science, but producing consistent colors is how Merlex differentiates itself. Our 30 Standard Colors and 10 Premium Colors come out consistently every time and match the samples you'll see at our dealers, our plant, as well as our color chart. Architects, designers, and builders, trust the Merlex Color Lab to match their desired colors and produce stucco consistently to their specifications. This is why many of today's top builders such as Shea Homes, S&S, Standard Pacific, and Woodside, specify Merlex Stucco on their projects. Merlex's stucco is widely available through building material dealers and accepted by stucco contractors all over the West.
Requesting Custom Colors
Merlex's Color Lab stands ready to assist you with your project. If our 30 Standard Colors and 10 Premium Colors do not meet your needs, don't worry - they are just the tip of the iceberg! One option is to bring in a paint chip for our Lab to match in stucco. The process can take several days to several weeks, depending on whether we've matched the color before. If so, we can make you a standard 3-inch-square sample for you to take with you and approve before ordering the material. If it is a new color to us, our experienced lab technicians will create a new color for you with its own P-number for you to use in placing your order.
We can match most anything you bring us, limited only by the natural pigments that are suitable for use in cement-based stucco. Keep in mind that darker colors require more pigments and labor to produce. Approximately 65% of all our colors are standard cost, but darker colors and especially blues and greens will cost a little more. We can give you a price if you give us your P-number.
If you are matching an existing structure, we strongly recommend bringing in a physical sample for our Color Lab to match. Even if you know the Merlex P-number on your house, we recommend a physical match, because stucco does fade over time from exposure to the elements. Also, raw material deposits vary slightly over time.
Once you've chosen your color and have the Merlex P-number, ordering is simple. If it's one of our 35 stock colors, we stock 35 sacks of premix and color packs at all times - just come on in and get it! If you've chosen a custom color, you'll need to place an order ahead of time, by phone (714) 637-1700, for the material. You can pay cash at our plant office, or your stucco contractor can order the stucco through his material dealer. Keep in mind that an average sized house requires 30-40 sacks, each weighing 90 pounds. That material will need to be delivered to the job site, which is why it is advisable to purchase through a material dealer who has all the necessary equipment to get the job done right.
Recoloring & Patching with Fogcoat
Fogcoat is a more efficient and affordable alternative to exterior painting. A special blend of cement and lime (without sand), Fogcoat is available in all of our stucco colors. It is blended with water on the job site and can be sprayed or brushed onto stucco to adjust color without affecting texture. It is used to even out color around patches, cover stains, and even recolor entire houses.
The key benefits of Fogcoat are (1) it won't peel or flake off like paint, since the cement in it bonds to the cement in the stucco underneath; (2) it allows the building to breathe, whereas elastomeric paints can lock moisture inside the walls and cause mold growth; (3) it allows flexibility to change the color in the future with another color of Fogcoat; (4) Fogcoat does not require scraping and sandblasting (unless the surface has been painted previously); (5) it is applied in such a thin layer that it does not cover up the stucco texture underneath.
Although a handy homeowner could perform a small job using Fogcoat, Merlex recommends the use of a qualified stucco contractor to ensure that the house color meets expectations. Working with pigments in a cement matrix is not as simple as it may seem. The weather, application technique, underlying surface, and equipment make a big difference in the finished product.
For more detailed information about our stucco products, please see the Specifications on our website!