Resources
LEED
No Matter What Color You Choose,
Merlex Stucco is Green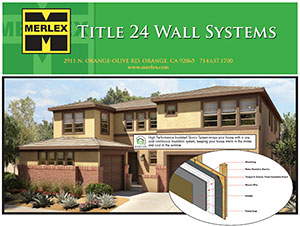 Click here
to view/print the flyer.
Merlex Stucco takes its responsibility to the environment seriously. Every decision we make in raw material sourcing, production processes, and logistics first considers environmental impact.
Merlex Stucco is a "green" building material - Natural, Sustainable, Responsible, and Durable.
Natural:
Made from all naturally-occurring readily available minerals - limestone, clay, gypsum, and sand.
Sustainable:
We recycle every possible waste stream in our production process, and so do our vendors.
Responsible:
We source only California sand and cement in our Color Coat Stucco, so trucking fossil fuel use is minimized and we support our local businesses.
Durable:
Merlex Color Coat Stucco, properly applied, will last as long as the building it is put on, which is a smart way to build your home and an efficient way to use our natural resources.