About Merlex Stucco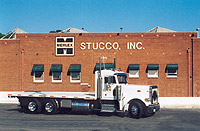 Merlex Stucco
For over 50 years, Merlex has strived to provide the best quality stucco and customer service in the business. We are very appreciative to have earned the business of so many repeat customers. Here's just a few things they say about us:
Merlex materials spread best
Merlex colors are brighter
Merlex products are consistent from job to job, so I know I can count on my materials
If I have an important job, I always use Merlex
What separates Merlex from other manufacturers isn't just the quality and workability of their products, it's their dedication to the project
Merlex Stucco is a small business built from the Midwestern tenacity of its founder, Merle VerBurg. With our dedicated staff of knowledgeable employees, Merlex offers the finest stucco products, paired with superior service and reliable, on-time delivery. We tailor our service to you, the customer, so that we are sure we meet your needs with the best possible products and prompt, value-added support.
At Merlex, sustainability is more than an industry trend; it's a shared passion. We see it as an energizing challenge — to create new products that make better use of natural resources and improve the built environment. You'll see this focus in our products, and you'll hear it from our sales representatives. We are well-informed about green building programs and regulations, and we are excited to apply our knowledge to your project.


www.vero-rialto.com