Products
MX Acrylic Finishes

View the MX Acrylic Finish tech sheet PDF

MX Acrylic Finish - Medium SDS

MX Acrylic Finish - Fine SDS

MX Acrylic Finish - Super Fine SDS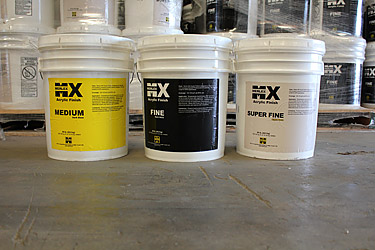 Merlex now has an acrylic finish product line to offer our customers. MX Acrylic Finish offers you a user-friendly, competitively priced acrylic finish product, to go with our industry-leading color matching and technical support. Features include:
Crack-resistance
Color uniformity
Water-shedding ability
Darker colors than traditional cement stucco
Available in Medium, Classic, Fine, and Super Fine textures
Custom color matches in 2-3 days
Medium

View the MX Acrylic Finish - Medium SDS PDF
Fine

View the MX Acrylic Finish - Fine SDS PDF
Super Fine

View the MX Acrylic Finish - Super Fine SDS PDF
Classic
(upon special request)
M Lofts in Los Angeles, CA
The Architect is KFA, the Builder is Frost Chaddock, and the plastering contractor is Pyramid Plastering.
The Merlex product used was our MX Fine finish.
View Video »